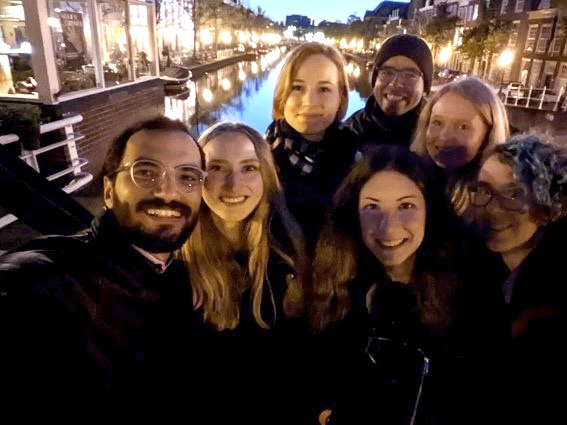 Beginning a PhD is a daunting experience. Thrown into the deep end, equipped with nothing but enthusiasm and a penchant for research, students must quickly adapt to the realities of their new life. For the DRUGtrain ESRs, this also meant packing up and moving to a new country where we were given the exciting opportunity to integrate ourselves in the culture and language of our host countries. As we prepared ourselves to tackle the behemoth that is a doctoral degree, we faced the additional challenge of adapting to the COVID-19 pandemic and our host countries' restrictions. From delayed shipments to reduced lab capacities to online-only meetings, it would be fair to say we were excited to have our first in-person meeting in April. Arriving on King's Day, we were welcomed to a grand spectacle of street parties and a flurry of locals donned head-to-toe in the Dutch national colour, orange. Escorted by the Leiden-based ESRs, we were given a quick tour of the city, stopping only for food (and drinks!) until it was time to head home to prepare for the following day's Mid-Term Meeting.
The next day, we gathered at the Leiden University Medical Centre for a day of ESR presentations. Fueled by coffee and Danish chocolate and biscuits, the ESRs took their turn to present their research to-date. It was an invaluable opportunity to gain insight into the research plans of our colleagues and to have the chance to ask any questions in real-time. The day ended with a special guest lecture titled 'Emergent therapies for ADPKD with a focus on cAMP signalling' from Vicente Torres, Director of the Mayo Clinic (US) and leading researcher in ADPKD. Animated by the day's events, the networking dinner gave us an additional opportunity to discuss our research plans more casually and introduce ourselves in-person to some of the PI's and partner organisations.
The following day had us gathered for the 2nd DRUGtrain training course. Featuring seminars from applied data science to model systems, entrepreneurship to career support, supplemented with a steady stream of coffee we completed our first in-person training workshop. The workshop highlighted the multi-disciplinary nature of the DRUGtrain project and gave each of us an insight into both how the projects of others play a role in the larger picture, but also how our work could supplement the work of others.
Our first in-person meeting was a resounding success and gave the ESRs an invaluable opportunity to discuss our concerns but also our hopes for the future, as well as help put our work into perspective. Working together towards a larger goal, I'm sure I speak for others too when I say we are all looking forward to future collaborations. Until then, see you all at the next meeting in Aachen, Germany!